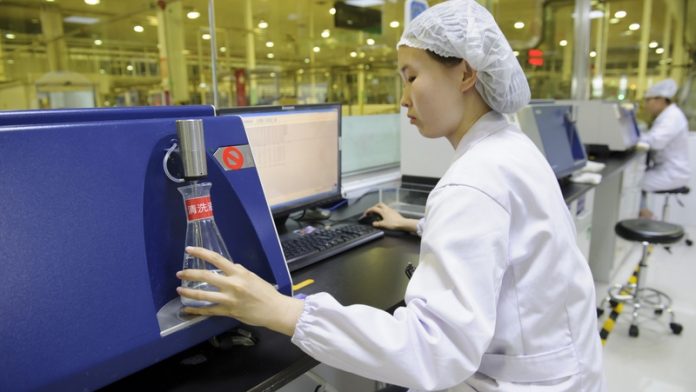 Although the economy is expected to grow by 5.8%, lower than expected, production is still on the rise
The country's economic growth in the second quarter of the year is expected to be lower than expected. However, the economy will also continue recovering strongly, with processing and manufacturing, and the service sector serving as key drivers of growth.
At a recent government cabinet meeting, the Ministry of Planning and Investment said that based on positive performance of the economy in the first five months of 2021, it is projected the nation's economic growth rate will be about 5.8%. This will be lower than the target of 7.11% set in Government Resolution No.01/NQ-CP, released on January 1, on the key tasks for the implementation of the socioeconomic development plan and state budget estimates for 2021 (see box).
The driving force of Vietnam's economic growth this year will be the industrial-construction sector and the service sector, especially processing and manufacturing, the MPI said.
Positive performance
According to the General Statistics Office (GSO), in May, the resurgence of the COVID-19 pandemic has caused disruptions in supply chains and trade, as well as transport activities in a number of localities who are home to big industrial production like Bac Giang, Bac Ninh, and Ho Chi Minh City.
However, in the first five months, trade and transport activities still increased as compared to the same period last year.
Specifically, the total retail and service consumption revenue of the entire economy expanded 7.6% to more than VND2 quadrillion US$86.96 billion, and total import turnover of goods went up by 33.5%, while passenger transportation rose 4.2%, and goods transportation climbed 10.5%.
Global analysts FocusEconomics (based in Spain) said that Vietnam's economy recorded solid growth in the first quarter of 2021. GDP growth clocked in at 4.5% year-on-year in the first three months of this year, matching the growth rate from the last quarter of 2020.
As such, while the first quarter's readings marked the joint-strongest expansion since the fourth quarter of 2019 and are likely to be well above those of other key ASEAN economies, it nevertheless undershot market analysts' expectations of a near-6% growth rate.
"Looking at subsectors, growth in the industrial sector rose to 6.3% in the first quarter of the year (the fourth quarter of 2020: +5.6% year-on-year), with the manufacturing subsector continuing to play a driving force in overall economic activity," FocusEconomics analysts said. "On the other hand, growth in the services sector slowed to 3.3% year-on-year in the first three months of 2021 (Q4: +4.3% year-on-year) and agricultural production growth ebbed to 3.2% (the last quarter of 2020: +4.7% yoy). Looking ahead, the economic recovery should gather pace later in 2021, with the second quarter's outturn projected to be significantly higher than in the first quarter of the year."
The GSO also said that Vietnam's production activities strongly bounced back in general in the first five months. Specifically, the economy's index for industrial production (IIP) expanded by nearly 10% as compared to 1% in the corresponding period last year.
Notably the manufacturing and processing industry increased 12.6% in comparison with only 2.2% in the corresponding period in 2020.
The IIP in May climbed 11.6% as compared to the corresponding period in 2020, when it decreased 3.1%.
Also according to the GSO, in the first five months of 2021, as many as 55,800 businesses were newly established, with total registered capital of VND778.3 trillion (US$33.84 billion), employing 412,400 new labourers, up 15.4% in the number of enterprises and 39.5% in registered capital.
If another VND975.1 trillion (US$42.4 billion) registered by 19,100 operational enterprises is included, total capital inserted into the economy in the period was VND1.753 quadrillion (US$76.2 billion), up 27.5% year-on-year. Furthermore, 22,600 businesses also resumed operations, up 3.9% year-on-year.
Upbeat projections
According to FocusEconomics, the economy is forecast to expand rapidly this year, with growth set to outstrip regional peers, strengthening domestic and foreign demand dynamics. However, further outbreaks of the virus and a relatively slow vaccine rollout are causes for concern, while the sti?ed state of the tourism sector poses an additional risk.
"Our panellists expect GDP to expand 7.1% in 2021, and 6.8% in 2022," said FocusEconomics analysts.
The network of the German Chambers of Commerce Abroad (AHKs) said that German businesses are showing optimism about Vietnam's economy in the medium term and look forward to a recovery year heading towards 2022.
Despite the pandemic, Vietnam is becoming a strategic investment destination in the process of restructuring the global and regional supply chain, a potential domestic market to attract international corporations, according to a AHK World Business Outlook Survey conducted in spring 2021 and released two weeks ago.
"Vietnam is still one of the countries with the fastest economic growth in Southeast Asia. Foreign-invested enterprises, especially German businesses, are also showing optimism about Vietnam's economy in the medium and long term," said the survey. "German business leaders in Vietnam maintain a positive view with the economic expectation as well as with their situation in Vietnam and they look forward to a recovered year of 2021 and 2022."
Under the survey, 55% rate their current business situation in Vietnam as good, and 11% as poor, while in 2020 only 36% had a positive view of their situation in Vietnam. Negative ratings fell from 23 to 11%.
Furthermore, 47% of German companies in Vietnam intend to expand their activities in the country – up from 22.7% in spring last year, and 50% assume an increase in employment in 2021/2022 – up from 27.3% in the spring of 2020. About 65.8 and 73.7% expected the country's economic and business situation will get better this year.
In the same vein, according to new data from the European Chamber of Commerce in Vietnam, when asked about the prospects of Vietnam's business environment in the April-June period, 67% of its members predicted either 'excellent' or 'good', up 12% on-quarter.
Meanwhile, business leaders are also more optimistic about their own companies. More than two-thirds (68%) forecast that their orders and revenue will 'maintain or increase' during April-June, up 25% from the fourth quarter of 2020.
In 2020, Vietnam surprised the world with its impressive control of COVID-19 and its inspiring economic growth rate of 2.91% in 2020, an average annual rate of 6.8% in the 2016-2019 period, making the country one of the world's top 10 nations in terms of growth, and also one of the 16 most successful emerging economies in the globe in 2020.
Last year, the economy's GDP was estimated at about US$268.4 billion, up US$11.4 billion against 2019, fourth in Southeast Asia, with total export-import turnover of US$543.9 billion, up 5.2% year-on-year – a record trade surplus of US$19.1 billion, notably in the context of strong decline in global trade.
Key targets for the country's socioeconomic development in 2021

No
Index
Unit
Plan for 2021 by National Assembly
Government targets for 2021
1
GDP growth
%
About 6
About 6.5
2
Per capita GDP
USUS$
About 3,700
About 3,700
3
Average consumer price index
%
About 4
About 4
4
Ratio of total factor productivity in economic growth
%
About 45-47
About 45-47
5
Increase of labour productivity
%
About 4.8
About 4.8
6
Trained labourers
%
About 66
About 66
In which, labourers with diplomas and certificates
%
About 25.5
About 25.5
7
Population with health insurance
%
About 91
About 91
8
Reduction of poverty rate under multidimensional poverty index
Score
1-1.5
1-1.5
9
Urban residents with access to clean water via concentrated water supply systems
%
Over 90
Over 90
10
Collection and treatment of urban solid waste from households
%
Over 87
Over 87
11
Operational industrial parks and export processing zones with concentrated wastewater treatment facilities that meet environmental standards
%
About 91
About 91
12
Forest coverage
%
About 42
About 42
Source: Resolution No.1/NQ-CP dated January 1, 2021 on the key tasks for the implementation of the socioeconomic development plan and state budget estimates for 2021
Source: Nhandan